I hope you all are enjoying this years Holiday Gift Guide for Him, because here comes the 2019 Holiday Gift Guide for Her!
I am thinking of this gift guide as my Christmas List because I don't know anyone who wouldn't want any of these gifts.
The holiday season is a special time of year for me, I get to see family and friends I don't often get to see at other points in the year. One thing I always dread is finding the perfect gifts for my loved ones. Men aren't super hard to shop for and 50% of the time they will just tell you what they want, but all the women in my life like to pretend they don't want/need anything. Don't get me wrong I do this too, I never know what I want, but I also hate asking for things…so I normally just appreciate and love whatever they choose to gift me. But this is why this years gift guide for her is going to be a bit more comprehensive than the mens.
Fear not! This years holiday gift guide is jam packed with cute and great gifts for any woman or little girl in your life! I scoured the internet in search of only the best for all age groups!
Don't worry boys I didn't forget about you! If you're reading this because you don't know what to get your sweetheart, I have got you covered! At the end I put some special gifts you can get your love!
Disclaimer: Some links may be affiliate, meaning at no cost to you I may receive a small commission per click or purchase. I only support brands I love! Thank you for supporting me!
Related Posts
Holiday Gift Guide for Him 2019
How much should you spend on your partners Christmas gift?
10 Helpful Tips for Surviving the Holidays with Family
Well Im excited so lets get into it.
Holiday Gift Guide for Her 2019
Little Girls!
I think little girls are so much fun to shop for, it brings me right back to all my childhood memories of getting the Toys R Us catalog in the mail, dog-earring all the pages and circling my favorites. Needless to say the holidays have always been my favorite time of year. I found most of these little girl gifts from Target and they currently have a sale going on! Up to 50% off the toy section!
#1 This first one sets the bar high, for a low price! A bath bomb maker! I wish I had one of these as a kid, super easy to use, and only $17.49 (reg. $24.99) This is a great gift if the little one is into pampering herself! You could make a whole spa night out of it!
#2 If you want to go all out and make your gift memorable, I have the perfect idea! I came across this play kitchen set that is way more fancy than the one I had growing up! (It even has Artisan in the name) This kitchen is on sale for $69.99 (reg. $99.99) You can get the little ones started with cooking young! I love the style of this kitchen set and its not too expensive for what you're getting!
Teens
Teens can be so hard to shop for, especially when all the teens I know just ask for money. There is nothing wrong with giving a gift card, I do it all the time! But I will normally give money as a birthday gift and try to get something meaningful or fun for the Holidays!
#1 I don't know any teenager who doesn't love a good comfy pajama set. If you're looking for a gift for a teenage girl, but don't want to break the bank? A cute and comfy pajama set especially in the cold winter season can change lives! You can take it one step further and add some cute slippers too! I found this set at Target, I love this one because you can get it to match literally anyone in your family…even your pets! I know I am picking up four of these, one for me, one for my boyfriend, and one for each of my cats (don't judge). They come in all different styles and patterns but these were my favorite, if you follow the link it should give you some other options as well!
#2 I might buy this one for myself! for only $29.99 (reg. $55.99) you can get a google home mini and a bluetooth lightbulb! This is great because not only does the google home mini play music and connect right to your Spotify, but its voice activated! You can say something like "Ok google play Spotify"…thats perfect for a teenager who loves her music. But wait, theres more…because it can connect to the lightbulb, you can say something like "Ok google turn off/on my light" and it will turn on or off! You cant beat that price!
Young Women
Being that I am in fact in this category, I have a few great ideas that I would probably ask for if…you know…I was the type to ask for a gift. This is a big and usually stressful time in life and being a young adult can be super draining. A trend right now is self care, which is something I can definitely get behind. Here are a few must haves!
#1 A comfy robe is something I did ask for this year. I will be honest with you, I hate wearing pants when Im home, and since I live alone its okay. But I do have pretty big windows that look out onto the rest of my complex so if someone was to glance up at the exact time I am walking down my stairs pants-less, they are in for a show. I also hate getting out of the nice steaming hot shower and being hit with that cold burst of air no matter how high you put your thermostat. You can either stick with the target trend or go all out and look at some of the Victorias Secret robes. Im not talking those sexy silk robes that everyone loves…I am in this for comfort not sexiness! I am talking about this big fluffy cozy robe. This comes in at $69.99 but I personally think its pretty worth it and the person receiving it will love it! If you don't want to spend that much I am sure you can find one for cheaper at Target or Walmart!
#2 I would put something sparkly here, because I know thats what I want from my boyfriend…but I will leave the relationship gift ideas til the end. Even though I am reserving the romantic jewelry for the end, you can still get someone jewelry even if you aren't dating them! I recently found this Alex and Ani necklace that I fell in love with. The necklace is called the Path of life, there is a whole collection based on the Path of Life but I fell in love with the necklace ($39.99). The idea of this collection is that Life is a journey, but everything has purpose. This resonates with me because as a young adult we are kind of push into the world and tend to make a lot of mistakes, but its all a part of life. I will put a picture of the necklace below but you can check out the whole collection and see what works best for that special person!
Adults
Like I said earlier adults can be really hard to shop for when they refuse the idea of you gifting them something. Don't worry, here are some gifts they wont be able to refuse!
#1 This one can be a bit pricey but if you're willing to put a bit of extra money this is a great idea. For around $125 you can get her a dainty but classy watch from the brand MVMT you might have seen them on Instagram, thats where I found them. I love the idea of watch because its a timeless gift. (get it, its a pun cause watches tell time). There are tons of watches to choose from but I picked one on the cheaper side that I still thought was beautiful.
#2 Sticking with this bracelet theme, I have an offer for you! Pura Vida Bracelets is a brand that I work with and wear on a daily basis myself. I got my first bracelet as a birthday gift from my boyfriend, his entire family wears these bracelets! They are for a good cause too! Pura Vida was founded in Costa Rica and supports 800+ Artisans who hand make the bracelets, and can count on a steady income and positive work environment. If you click this link it will take you to the website where you can receive 20% off your entire order, every time you shop using my code Alyssarose317
Mom
Mom always deserves a special gift, I mean she is the reason why you are here right? If you are unaware I lost my mom about 4 years ago, so if you don't have a mom to give a gift this year, I totally feel you. But if you are lucky enough to still have you mom, on top of any other gift you decide to get her, give her a hug and show her how grateful you are to have her. But anyway lets get on with it!
#1 If you don't have a lot n the budget to spend on holiday gifts, look no further, I have found the perfect affordable gift for a mom who loves to cook! These personalized wooden cooking utensils are a great gift for mom! They come in at around $20 which isn't bad seeing as everyone needs wooden spoons and such in their kitchen!
#2 On the other hand if you have some money to spend I highly suggest this gift! Its another personalized item except she can wear it all the time! A name necklace in a classy script font which different color metals to choose from. This necklace is priced at $65 and you can get any name you want on it, whether you choose to do her name or yours or even something that means something to the both of you, you can do it!
The Love of Your life
Ladies and gentlemen, what you have all been waiting for! The Gift ideas for those of you in a relationship! I was so excited to write this part because it is me hinting at my boyfriend what he should get me! (even though he never reads my blog lol) Lets just start with the elephant in the room…of course the top gift would be an engagement ring for all you long term relationship peeps…but thats so personal, I don't think I could give you ring ideas in this short section! (If you want a whole post related to engagement rings and such let me know cause I will be so down to do it!)
#1 This is not, and I repeat, this is NOT an engagement ring, but it is definitely something I have been eyeing up for awhile. I love jewelry but I only really wear the same pieces everyday. I wear a necklace that says my boyfriends name, my Pura Vida bracelets, and a ring in memory of my mom. I don't want to add more necklaces cause they would get tangled, and I have way too many bracelets on as is, so the only jewelry I would want would be another ring. I love different types of stones and found opal to be so mesmerizing and beautiful I just have to have it! This is a cute way to gift a ring without making it a promise or engagement ring, use a different stone! You can find Opal rings that start at like $25 and go up way past $1000! Here is a link to the opal rings on Etsy!
#2 Women love smelling good! I know I love my perfume but it is so expensive I never get new ones! If your girl loves perfume or smelling nice, you can get her a perfume that you love to smell on her. I think its kinda hot when my boyfriend likes how I smell or tells me randomly I smell great 😉 If you have an idea of a scent she would like that you also don't mind, grab it! I recently purchased the YSL perfume and I am in love! Its kind of expensive but I g,.mknow it will last me awhile, plus I love collecting perfume!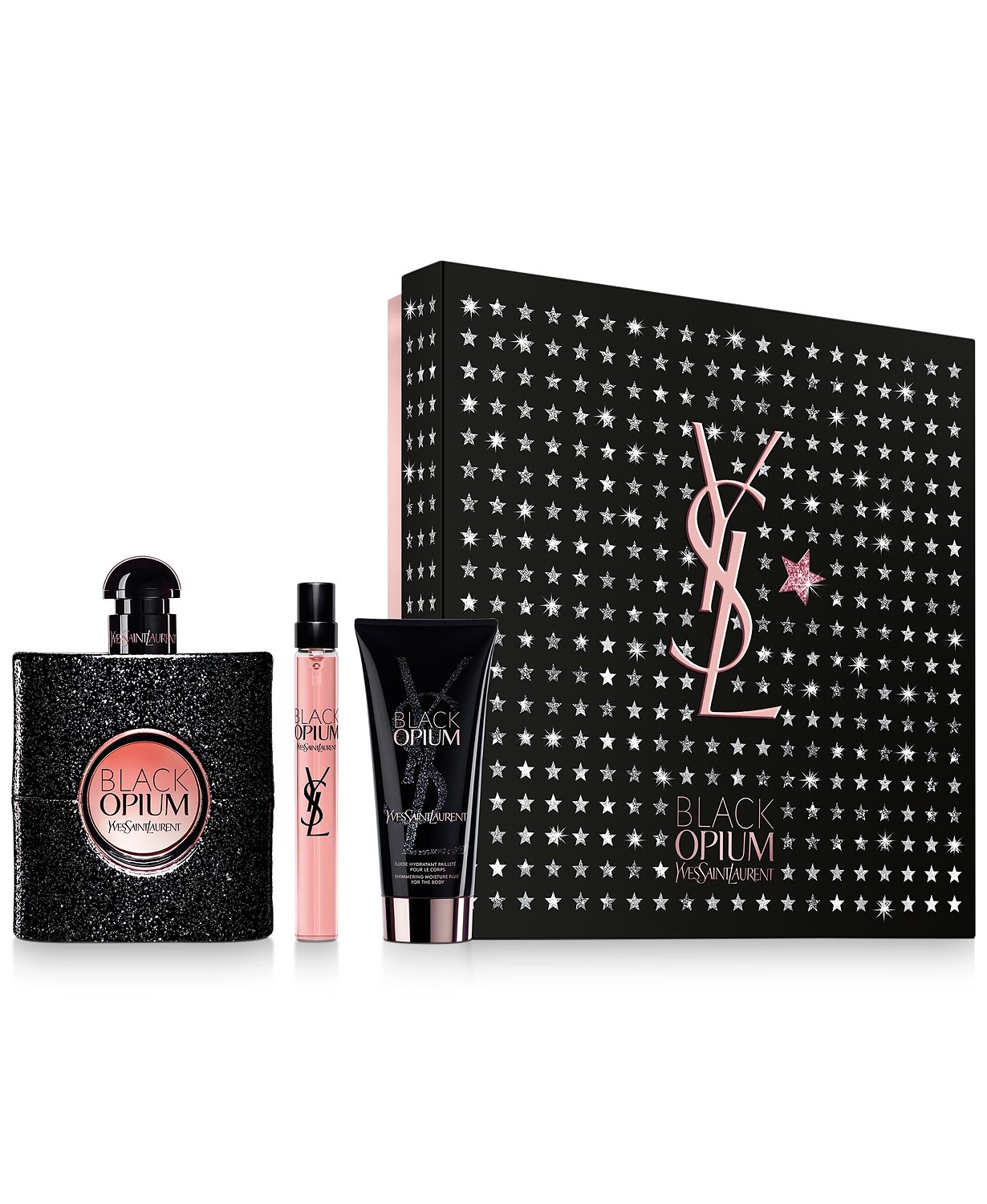 There you have it! There is you Holiday Gift Guide for Her 2019 ! Jam packed with all you could need to get ideas! Do you have other ideas you want me to share in time for the holiday? Let me know in the comments!
Holiday Gift Guide for Her 2019 Holiday Gift Guide for Her 2019 Holiday Gift Guide for Her 2019 Holiday Gift Guide for Her 2019 Holiday Gift Guide for Her 2019